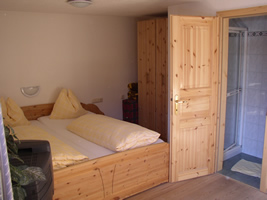 This room is located on the 3nd floor of House No. 443 and is one of our quietest rooms.
A wooden floor and the spruce furniture offer cosiness.
Satellite TV and phone is also available.
The new bathroom with shower and marble washing table has a separate WC.
There is nice view to a lot of mountains from the balcony.
The Ramsau Mountains with the Kalmberg and the Goisererhütte or the Katrin Mountains and the Jochwand.
We also use this room as an additional bedroom for Flat Nr. 30 on the same floor.