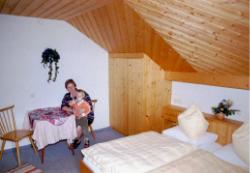 This room on the 2nd floor of House No. 443 and is one of our quietest rooms.
With an additional bed it is also suitable for accomodating a family.
The furniture is made from spruce.
Satellite TV and phone are also available to you.
The new bathroom is fitted out with shower / WC and marble washing table.
There is a fantastic view of the mountains from the balcony (the Ramsau Mountains with the Kalmberg and the Goisererhütte or the Katrin Mountains with the Jochwand in front).