An awesome experience
for everybody between 10 and 80!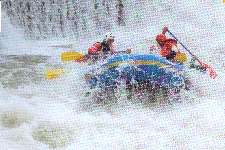 The tour is about 10 km and takes you through an impressive and exciting landscape from Steeg to Bad Ischl, and it lasts about 3 hours.

Sport Shop Zopf arranges tours for single participants every Wednesday and Saturday afternoon. The meeting point is at the Sport Shop Zopf in Bad Goisern at 3 p.m.

Application by telephone is urgently requested, Tel: +43(0)6135 8254. 6 participants and up, you can choose time and date by yourself.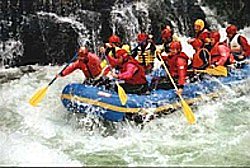 Highest number of participants per boat: 10

Physical requirements: swimming knowledge

Minimum age: 10 years

Participation is at your own risk.

The equipment consists of neobren suit, life jacket, helmet and paddle.

What you need to bring: swim suit and towels!!!
Best water level and therefore most interesting:

-From April to August-

Inquire about tours like Koppenschlucht, Lammeröfen et cetera, for skilled participants.

Price: EUR 45,-
Information: Sport Zopf Austria
Goisern 327 4822 Bad Goisern Salzkammergut
Tel.: +43(0)6135 8254 Fax: +43(0)6135 7409