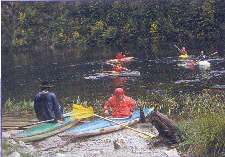 The beginner's instructions start at the Hallstatt lake. The right breaking in and out, entering the Traun at different spots, strait ahead paddling, theoretical classes, river knowledge....
Launching/Landing
Forward/Reverse Sweep
Forward Stroke
Reverse Stroke
Stopping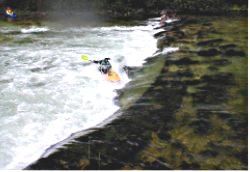 Advanced instructions, paddle support and diving in, training in faster flowing water, whitewater swimming, mistake corrections, companion helping, Eskimo roll...
Depending on experience, you can go to the entry spots of Grundlsee to Traun, Altaussee to Traun, �densee to Traun, Mitterwei�enbach, Rettenbach and also white waters of further surroundings as agreed.


Course for beginners 1/2 day incl. equipment EUR 40,-
One-week-course, 5 half days incl. equipment EUR 150,-
or 3 half days EUR 105,-
Minimum participation is 3 people!