Our big flat Nr. 35 for 6 to 8 persons: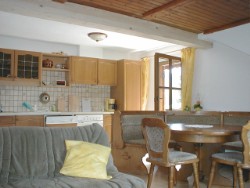 The flat consists of a cosy kitchen and a living room (25m²) with SAT TV, a double bedroom, a triple bedroom, a single room with an extra-bed, bathroom, WC and a balcony.

Our guests can take advantage of breakfast in our breakfast room for EUR 4,00 per person and per day.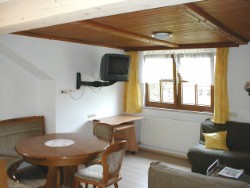 The flat is big enough for 2-3 more persons who can take rooms on the first floor.

The living room is fitted with a dinner table, a cosy couch, SAT TV with more than 50 programms and a desk with a PC and free internet access.

There is a big kitchen with a dishwasher, refrigerator, electric oven and there are enough dishes for 2 families in the flat.
The double bedroom with balcony has room for an extra bed.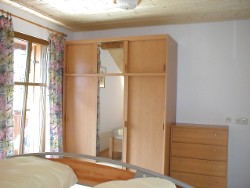 A three bed room with view to the Goisererhütte
(You can't see the 3rd bed (90/200) on the photo)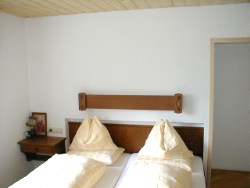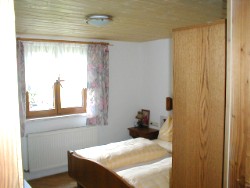 The extra bed in the single room is big enough for adults.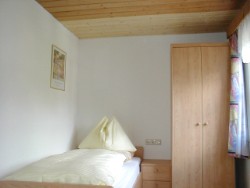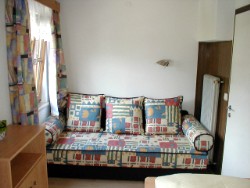 Bathroom and WC are two seperate rooms.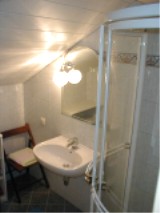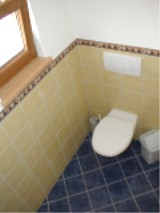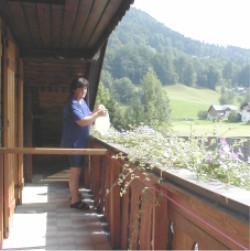 The flat offers views in three directions.

So you can see the Kartin mountains, the Ramsau mountains, the Sarstein, the Dachstein massif and lots of other mountains.